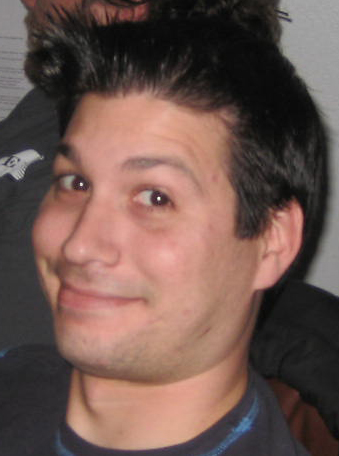 Meet Dave Geffken. Dave has been working with Cloudspace for almost 6 years and is our resident non-profit website and application specialist. He is also currently getting trained for our agile development team which he will be joining in the coming month.  As you will read below, Dave is big into watching football, snowboarding and pinball.  And now here's more about Dave:
Where were you born? Where did you grow up & what was it like there?
"I was born in Ft. Lauderdale, Florida.  I grew up in a suburb of Ft. Lauderdale called Lauderhill.  I went to a small Catholic school in Lauderdale Lakes called St. Helen's.  Typical Florida suburb upbringing; played with friends in the neighborhood after school, went to summer camp at the local park, played sports at school and with the city.  I went to the beach a lot and learned how to surf, skim board, wake board and water ski."
What types of activities did you enjoy as a kid? What is your favorite outdoor activity?
"I played all kinds of sports.  Football, baseball, roller-hockey, basketball and Martial Arts.  My favorite was football, but when everyone kept growing and I stopped at 5'10 145lbs., it was time to give that one up. As I got older and busier I had less and less time for sports, so they slowly went away :-("
Did you go to College? If so, where?
"I went to UCF and graduated with a Bachelors Degree in Information Technology."
What was your first job?
"My first job was working in my Dad's Transmission shop, National Transmission (not his anymore, sold it!), in Ft. Lauderdale.  I taped up and spray painted our logo onto the boxes that we shipped the converters in, swept up the shop and kept things clean.  Through high school, I had a number of bus boy jobs at a few small Italian restaurants.  I quickly realized that the restaurant business is not for me at all, which encouraged me to go to college!"
What got you into computers?
"There was always a computer in the house.  We had a Commodore 64 from when I was really young, I remember playing math games on it.  When I was in middle school, we got a subscription to AOL and I learned what chat room punters were.  I got our account banned because I was kicking people out of chat rooms and disconnecting them from the web.  I would say that is what started my interest in being able to make computers do what I want them to do. From there I figured out what mIRC was and found out that I could download video games and music for free!  I downloaded the original GTA overhead view video game on a 56K connection for 2 weeks, every night from 10pm-6am.  After I downloaded the game and installed it and it worked, I thought this was the coolest thing ever.  A video game appeared out of thin air, for free!  Genius!"
What attracted you to working for Cloudspace?
"I had been programming in college for a few years and in Spring 2003 I decided that I needed a job in the field.  One of my friends, Michael Orr, who had just been hired at a local small web shop called Cloudspace, mentioned that they were looking for part timers.  I had no PHP, HTML, MySQL, CSS or JavaScript experience, and knew nothing of web standards, but I could code up some mean C and Java programs so I asked Michael if he could get me a job.  Since I didn't understand anything beyond basic programing, I worked for free in my spare time for a few months while I learned HTML and CSS enough to become productive.  Six years later, I am planning and coding large scale projects from start to finish."
What do you do for fun?
"I love snowboarding!  I go on at least one trip every year.  A couple of my favorite places that I've been to are Copper Mountain and Jackson Hole.  The ol reliable is Snowshoe, West Virginia because you can drive there in 14 hours from Orlando.  It makes for a good spontaneous or quickly planned trip.  I like to go out to concerts and live shows whenever my favorite bands come into town.  My favorite type of music is metal, so the tickets are really cheap!  My favorite bands are 'Between the Buried and Me' and 'Norma Jean'."
Favorite way to relax?
"Pinball!  I love playing pinball.  There is one local arcade called Rocky's Replay that has good new machines in great quality.  I go there about once every 2 weeks.  On a good day I can get a replay on the 5 machines they have in under $8.  My favorite machine of all time is the Terminator 2 table from the 90's when I was a kid.  Sitting next to the lake with a drink and my feet kicked up is always good too."
Do you have any pets?
"I have a small stray cat that I took in when she was just a few weeks old.  She's kind of like the artist formally known as Prince, she has a symbol for a name.  Her name is the Greek symbol Mu, also the coefficient of friction.  When I first got her, she used to do this weird thing where she should lay on the carpet sideways and try to run, laying down on her side.  Needless to say it wasn't very efficient.  At the time I was taking physics and we were studying friction, so it seemed suitable.  My cat is named after the coefficient of friction.  She's also spoiled!  She has a carpeted kitty tower that is as tall as I am and about 5 feet wide and she won't let any other cats get on."
What is your favorite drink/food?
"I love Italian food.  Most of my family is Italian and they cook great Italian food.  My favorite part of going home is getting to eat Mom's Italian food.  Ravioli, lasagna, sausage, tortellini....mmmmm."
What is your favorite sport?
"Football!  I have season tickets to the Dolphins that I share with my family.  I've been cheering for the Dolphins and the Hurricanes for as long as I can remember.  I don't know what to do with myself when there's no football on, it's also probably when I'm most productive."
What is your favorite word?
"indubitably"
What is your least favorite word?
"apathy"
What sound or noise do you love?
"Really fast double bass pedals on drums."
What sound or noise do you hate?
"Anything scratching.  Finger nails on chalk board, desk, wall. Knife or fork on a plate.  Makes my skin crawl."
Thanks for the interview Dave!  Next week I will be introducing you to our in-house server and email guy, Matthew Cupples.